I heard the door crack, followed by the soft-puttering of my oldest's feet. It's our daily ritual...I pull the covers over my head, while he straddles my torso and bounces.
It's a bit unorthodox, but it works for us.
He looked to the empty side of the bed, and amped it up to eleven: "Where's Daddy! I want Daddy!"
I grumbled, "Owen, you know where Daddy is. He's at work." I could tell by his tightly clenched fists and the particular timbre of his whine that he wasn't letting go of this one easily.
Sure enough, he barreled on, "Why does he have to work? He's my favorite guy. Let's get in the car right now and go get him."
"Yes Owen," I replied, "Let's load up you and your brother, and drive to downtown DC at seven fifteen. We can then buy a security clearance from a local vendor and sneak into his office. Maybe we can download some files or call Yemen.*"
"Great!" he yelled. Sarcasm is lost on a four year old.
Trying a different approach, I said, "We can't see Daddy until later. But we can do fun things together. Maybe go to the park? Play with play-dough?"
He crossed his hands and said, "I don't want to do that. Mommy is boring. I want Daddy."
Dagger. In my heart. His twisting technique was quite advanced for his age.
"Well, Owen, " I said, "You're just stuck with me."
***
Intellectually, I know that familiarity breeds contempt. Because Paul is gone for much of the day, he is special. Besides, I get it. Paul is
that kind
of dad.
When it's raining, Paul takes Owen out to splash in the puddles. Every evening, Paul and Owen play catch in the backyard. In between throws, when Owen declares he needs a "little rest," my boy will sit in his father's lap, and they click together like two Legos.
Yesterday, Paul and Owen were talking about college. I heard him say, "You can go anywhere you like, as long as you work hard and try your very best."
I would have added "Except Arizona State," because I like to amuse myself.
Paul, however, wasn't about getting the self-serving laugh. He listened to his son, as he bounced ideas around, catching and releasing the words with a practiced ease.
Owen glowed.
***
I know that Owen loves me very much. I know he enjoys my company.
I also know that when Paul's side of the bed is empty, Owen feels a loss. A loss that I cannot fill, because I am not Daddy.
On good days, I understand that this is the way of things, and that Owen blows smoke with increasing, attention-seeking frequency.
On less secure days, I worry that my lack of essential Dudeness will cause my boys to pull away. Or, worse yet, I fear that they will prefer Paul, not because I lack the proverbial "package," but because I lack the parenting package.
Yet, even if I am boring, I still did something right. I chose their Daddy. I chose the man who allows the boys to tell their stories, as he listens, delighted and complete.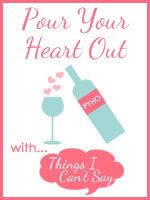 I thought this was a good fit for
Shell's Pour Your Heart Out meme. Go check out other heartfelt entries.
*As far as I know, Paul has no business with Yemen. I think his most exotic business dealings are in Ft. Worth.